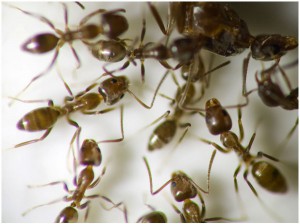 Ants Prevention and Control
Ants are found everywhere, from coastal mangroves to the highest peaks of the Australian Alps. Ant homes can be huge with tens of thousands of workers and extensive mounds, or small with only a handful of workers clustered together  in small cavities between rocks  or inside twigs. There are many species of an – and when they bite….It hurts.
Use ice to reduce swelling and an itch cream or antihistamine tablets to reduce pain.
Ants start becoming a pest problem when they raid building for food or water and when they construct nest in the building and gardens. Ants usually colonise or build their nest near the source of food. They often move their nest when disturbed or with change of food supply. They may leave temporarily and return to recolonise when new source of food is discovered. Usually this behavior make removing and controlling ants becoming difficult.
Keeping your house clean, careful food storage can help prevent ants infestation.
In general, ants are nuisance pest rather than health problem that can harm your family. If you need a qualified pest controller to get rid of ants from your residential or commercial properties, contact us for a quote.